Burn Photos to DVD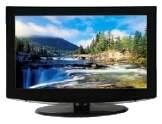 If you enjoy taking photographs, you are probably looking for the most secure and convenient way to store them. There are multiple opportunities, including CDs, DVDs, flash cards, the hard drive of your computer, and online storage. Which one is the best? We recommend that you burn photos to DVD for the following reasons:
huge data capacity – a basic single-layer DVD holds 4.7 GB of data, which means more than 15,000 high-quality photographs, which saves space on your hard drive




reliable and durable – a DVD disc can preserve your memories for up to 100 years




convenient viewing and sharing – you can show your pictures on the TV screen, or send the DVD as a gift to your friends and family




quick, easy and inexpensive!



How do you burn photos to DVD? Of course, you can simply put them in one or several folders and follow the common procedure of creating a disk. However, we suggest using photo slideshow software to make the process and the end product more fun! It allows you to make a true movie, consisting of picture slides, text captions, animated transitions, and music. What's more, you have an opportunity to customize the DVD menu, choosing from numerous backgrounds or creating your own, and adding a soundtrack.
In order to burn photos to DVD in Photo Slideshow Creator, you only need to do three mouse clicks.
1. Once you have created and saved your slideshow project, click Create in the top menu, and select Create DVD Slideshow. Otherwise, you can also go to the File menu and select Create and Burn DVD Disc.
2. The wizard will offer you to Select Menu. After you have chosen one of the pre-designed menus available, add the captions, customize the background, edit the settings, and add music to the menu.
3. The last step is clicking Burn DVD Video Disc – and you're done! Just wait a minute, and your disc is ready. Other special options – Create DVD Folders and Create ISO Image – enable you to create a "disc image" that can be easily rendered or burned to a BD, DVD or CD by using media authoring or disc burning software.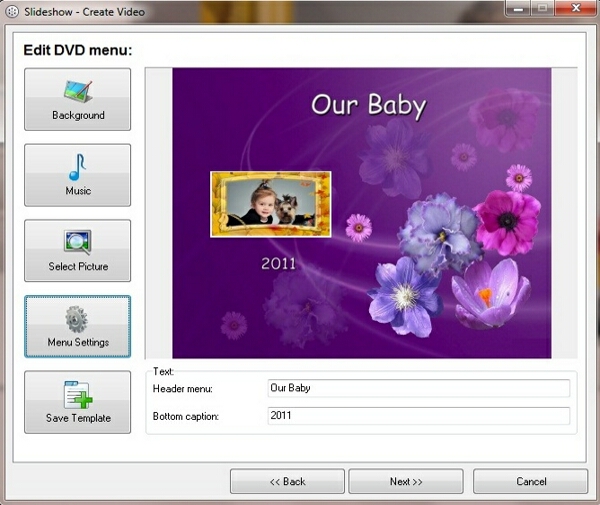 Get some valuable tips for creating a photo slideshow in Make a Video with Pictures and Music, or read How to Create a Photo Slideshow – there you will find plenty of slideshow ideas and a step-by-step guide to using photo slideshow software.
Get started bringing your ideas to life with Photo Slideshow Creator!