Transition Effects
Transition effects are a powerful tool for making still pictures come alive. They create a dynamic flow, capturing the audience's attention. Photo Slideshow Creator offers a huge collection of transitions, including fascinating gradients and spectacular double effects.
Depending on your choice, your pictures will appear with a page turn, a flash of lightning, or a whirlwind; they will gently fade or dissolve into each other; they can be made up from pieces of a jigsaw puzzle or a checkerboard - the transitions collection includes more than 100 fantastic effects!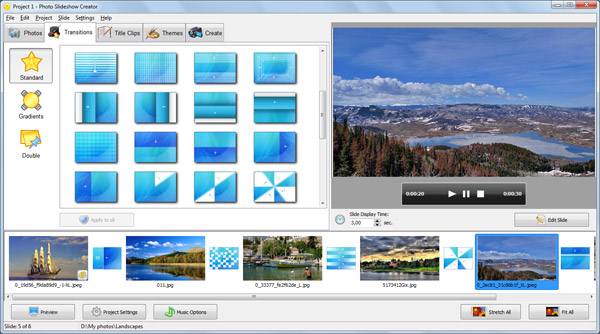 The program is very flexible when it comes to applying transitions. For example, it can create a slideshow with randomized transitions. Otherwise, you can choose to set the same effect for all the slides with just one mouse click, and then apply distinctive transitions to certain slides. You can easily adjust the transitions duration to make your slideshow slow and meditative, or bright and full of energy.