Slideshow With Music
The amazing power of music will help you create an unforgettable movie from your photos. Pick some songs or instrumental pieces that are memorable and meaningful to your audience, add them to your slideshow - and the spectators are sure to be taken away with the story, or even sing along!
Photo Slideshow Creator lets you add any number of soundtracks in MP3, WMA, and WAV formats. To make sure the soundtrack and the slide stream are synchronized, you can use a very convenient cutting tool for audio files. The soundtrack can be combined from several pieces. Sometimes it is a great idea to use slow and dynamic music pieces interchangeably - be sure that the viewers won't turn their eyes away from the screen.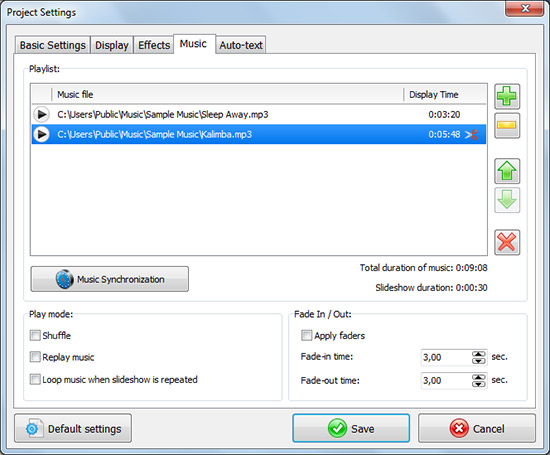 The photo slideshow software also allows you to synchronize the music and the slides stream automatically, as well as apply music faders, loop the soundtrack, etc. Besides music, you may want to use voice audio recording - great idea for family slideshows!