Mobile Photo Slideshow
With Photo Slideshow Creator you can create videos for download and view them on your mobile devices: PSP, iPhone, iPod, iPad, and mobile phones using video compression MPEG4.
Video slideshows on your mobile phone is an easy and affordable way to show your friends and acquaintances. If you're going for a walk around the city, or traveling on a long journey, your mobile slideshow can remind you of home, people and just pleasant moments in time.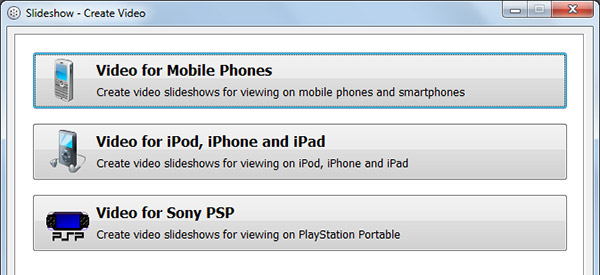 Turning a finished slideshow in to video for your mobile device is very easy. Select from the menu File > Create Video Slideshow > Create video for devices. Next, select the type of mobile device, and allow the program to create your video!
Photo Slideshow Creator lets you create slideshows for mobile phones in MPEG4 format with 176*144, 320*240, 640*360 resolution. This lets you see the finished slideshow on most modern phones.