Virtual Screen
Background slide themes make each of your slideshows truly unique. Whether you are making a wedding slideshow, a travel journal, a birthday greeting card, or a family year review, this photo slideshow software lets you pick a beautiful background theme.
Virtual Screens are one-of-a-kind background templates unique to Photo Slideshow Creator. With the Virtual Screen feature, your pictures will appear on a virtual monitor, TV, or street billboard. These themes are great for creating a stylish modern video.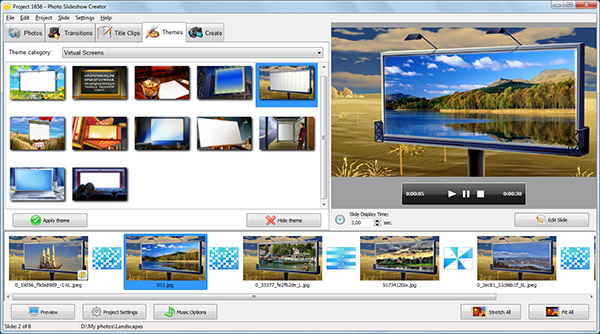 An extensive collection of slide themes includes a dozen of categories, such as Seasons and Travel, Wedding, Children and School, Modern Style, Greeting Cards, Flowers, Japan Style and more, with many gorgeous slide themes to choose from inside each category.